Professional Zoom Teeth Whitening Perth
8 Shades brighter in 1 hour!
Are you considering teeth whitening? At Nedlands Dental, we use the latest Philips Zoom Teeth Whitening technology that can whiten teeth by up to eight shades in 90 minutes, while protecting your tooth enamel.
Dr Foroughi and her associates have been providing Zoom Teeth Whitening in Perth for over 15 years and are able to deliver the treatment safely and effectively.
Is teeth whitening suitable for you? Zoom! teeth whitening is quick, convenient, safe, effective and affordable. This also includes your take-home maintenance kit to keep your smile sparkling!
Contact us on (08) 6389 2711 to arrange a free consultation with one of our dentists!
Teeth whitening Perth cost
At Nedlands Dental, we offer professional in-chair Philips Zoom Teeth Whitening for just $595 or $148.75 over 4 equal payments with Afterpay.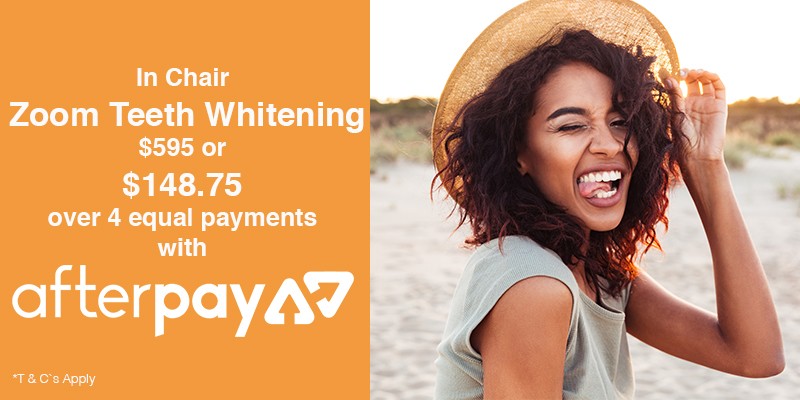 What is Teeth Whitening?
Teeth whitening is one of the most popular cosmetic dentistry treatments in Australia. It can be used to whiten teeth that are stained or discoloured, lightening them by several shades for a whiter-looking smile.
Zoom WhiteSpeed professional teeth whitening is performed at our dental clinic under the supervision of your dentist. This system has a variable intensity setting that allows each treatment to be customised for the individual patient's needs, as well as desensitisers to help protect your teeth, help reduce sensitivity and improve comfort. In most cases, the treatment can be completed in just 90 minutes.
What does the treatment involve?
Your professional whitening treatment is carried out by our dentists in the comfortable surroundings of our Perth dental clinic. After we've examined your teeth and gums to check that they're healthy and confirmed that you're a good candidate for teeth whitening, we will explain what the procedure involves and what the risks are, so you can decide whether it's right for you.
Before your treatment begins, we'll place a rubber barrier and gel onto your gums to protect them. We'll then apply the gel to your teeth that contains the whitening agent, including the active ingredient hydrogen peroxide or carbamide peroxide. This active ingredient breaks down and allows oxygen to enter the enamel surface of your teeth and brighten them. This bleaching process is accelerated using the Zoom Advanced Power Chair-side Lamp.
This process will normally be repeated three times during your whitening session, which should last around one hour. Our team will help you to relax during your treatment by playing your favourite music or Netflix which you can listen to on our Beats wireless headphones and watch on the ceiling-mounted TV. You may notice results straight away, but it will normally take a little longer for your teeth to reach their full whiteness. We'll provide a take-home tray that you can use to top up your smile if it fades.
Professional teeth whitening Perth
*$595 In-Chair Philips Zoom Teeth Whitening & Take Home Teeth Whitening Terms and Conditions
In-chair whitening treatment includes one or all of the following: In chair external whitening (118 x number of teeth). Impression/instruction-home whitening (119). Custom made trays (926) and provision of medication (927). Examination to check eligibility for whitening included. Patients may require a  professional clean and/or radiographs prior to the teeth whitening which will be at the patient's expense. Cannot be used in conjunction with any other offer. All health funds accepted, please refer to your health fund for their terms and conditions. Patients are encouraged to check their health fund cover prior to making an appointment. Not all people are suitable for teeth whitening, treatment will only be provided if deemed suitable candidate following examination.
We accept all Major Health Funds and Medicare dental schemes